Google Apps
Admin
To make a user an admin:
Users, select the user.

Scroll down, "Show more"

Admin roles and privileges, Manage Roles

Super Admin
Data Migration
So annoying… trying to move email from one Google Workspace account to another.
The Data Migration option only seems to allow a Source of imap.gmail.com.
I get the following error message:
Error

 

(

Retrying

)




Authentication

 

failure

.

 

(

18017

)



This article, G Suite Migration Data error 18017, seems to give a clue i.e. turn this setting on, https://myaccount.google.com/lesssecureapps but it still doesn't work!
Group Alias
Start by adding Groups for Business to your Google Apps. This will allow you to add the Public Access Level to a group.
Tip
If you want emails to go to a group of people e.g. to send info@ emails to everyone in the company, then create a group alias.
To create an info or admin email address, go to Google Groups, click the Create group button:
Home, More Controls, Groups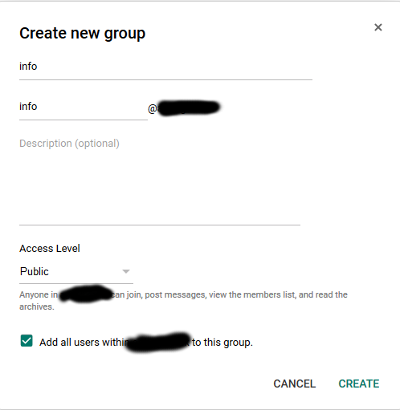 We must give the public permission to send email addresses to the group:
Groups, select your group, Access Settings, Posting permissions, Post, Public, Save

Note
Creating a group does not add another user to the account, so will not cost any more.