WordPress - WooCommerce¶
Plugins¶
veeqo¶
Only an administrator can disable a channel.
Theme¶
We are using the Flatsome theme…
To edit the theme, browse to the WordPress Dashboard.
WooCommerce includes several Widgets …
The filtering for WooCommerce products is configured in two places:
Appearance, Widgets.

Flatsome, Theme Options, Widgets, Shop Sidebar
Warning
If the Shop Sidebar isn't included in the list (e.g. you only see Footer 1 and Footer 2), then browse to a product category page and it should appear!!
Product Catalog¶
To remove pagination, Dashboard, Appearance, Customize, WooCommerce, Product Catalog, set Rows per page to 0: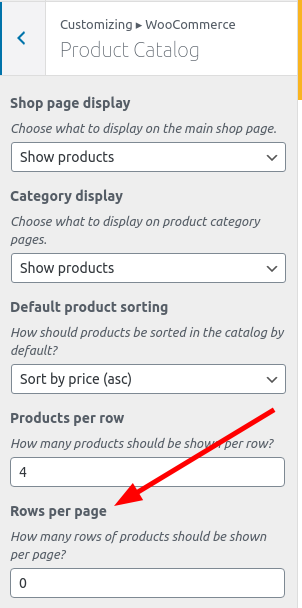 For more information, see Ticket 5897